A joint letter from Skate Ukraine & Ukrainian Figure Skating Federation
To ISU President,
ISU Secretariat,
ISU Council Members,
ISU Director General,
ISU Disciplinary Commission Chairman,
all ISU Members.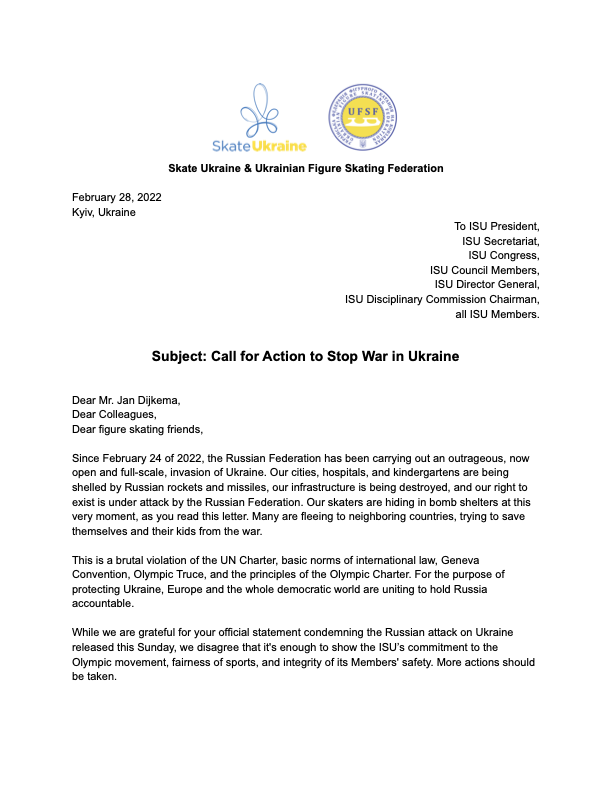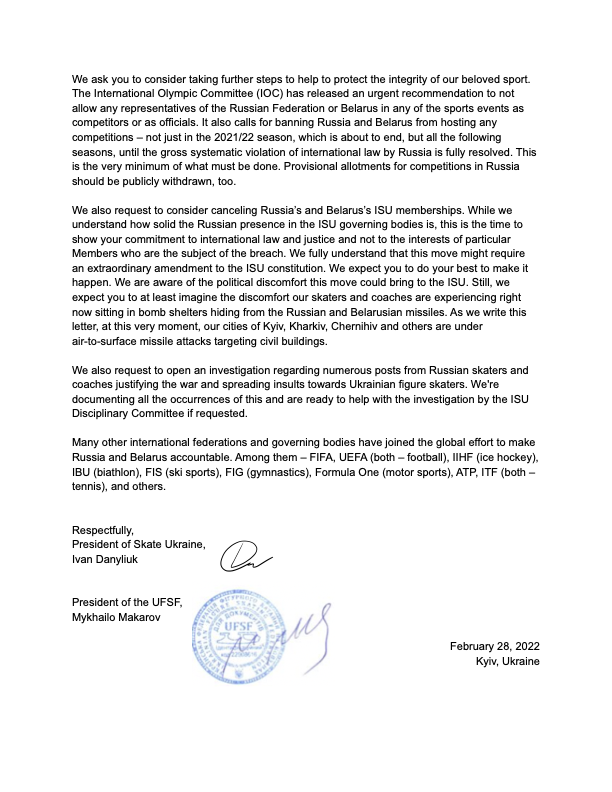 Open PDF
Subject: Call for Action to Stop War in Ukraine
Dear Mr. Jan Dijkema, Dear Colleagues, Dear figure skating friends,
Since February 24 of 2022, the Russian Federation has been carrying out an outrageous, now open and full-scale, invasion of Ukraine. Our cities, hospitals, and kindergartens are being shelled by Russian rockets and missiles, our infrastructure is being destroyed, and our right to exist is under attack by the Russian Federation. Our skaters are hiding in bomb shelters at this very moment, as you read this letter. Many are fleeing to neighboring countries, trying to save themselves and their kids from the war.
This is a brutal violation of the UN Charter, basic norms of international law, Geneva Convention, Olympic Truce, and the principles of the Olympic Charter. For the purpose of protecting Ukraine, Europe and the whole democratic world are uniting to hold Russia accountable.
While we are grateful for your official statement condemning the Russian attack on Ukraine released this Sunday, we disagree that it's enough to show the ISU's commitment to the Olympic movement, fairness of sports, and integrity of its Members' safety. More actions should be taken.
We ask you to consider taking further steps to help to protect the integrity of our beloved sport. The International Olympic Committee (IOC) has released an urgent recommendation to not allow any representatives of the Russian Federation or Belarus in any of the sports events as competitors or as officials. It also calls for banning Russia and Belarus from hosting any competitions – not just in the 2021/22 season, which is about to end, but all the following seasons, until the gross systematic violation of international law by Russia is fully resolved. This is the very minimum of what must be done. Provisional allotments for competitions in Russia should be publicly withdrawn, too.
We also request to consider canceling Russia's and Belarus's ISU memberships. While we understand how solid the Russian presence in the ISU governing bodies is, this is the time to show your commitment to international law and justice and not to the interests of particular Members who are the subject of the breach. We fully understand that this move might require an extraordinary amendment to the ISU constitution. We expect you to do your best to make it happen. We are aware of the political discomfort this move could bring to the ISU. Still, we expect you to at least imagine the discomfort our skaters and coaches are experiencing right now sitting in bomb shelters hiding from the Russian and Belarusian missiles. As we write this letter, at this very moment, our cities of Kyiv, Kharkiv, Chernihiv and others are under air-to-surface missile attacks targeting civil buildings.
We also request to open an investigation regarding numerous posts from Russian skaters and coaches justifying the war and spreading insults towards Ukrainian figure skaters. We're documenting all the occurrences of this and are ready to help with the investigation by the ISU Disciplinary Committee if requested.
Many other international federations and governing bodies have joined the global effort to make Russia and Belarus accountable. Among them – FIFA, UEFA (both – football), IIHF (ice hockey), IBU (biathlon), FIS (ski sports), FIG (gymnastics), Formula One (motor sports), ATP, ITF (both – tennis), and others.
Respectfully, President of Skate Ukraine, Ivan Danyliuk
President of the UFSF, Mykhailo Makarov
---
There is no amount of words, photos or videos that can express the utter horror of what our skating family and all Ukrainians are enduring right now.
We believe that sport is an ambassador of peace and peace can be achieved by a strong unity. We want our skaters to shine on the ice, and not to defend with guns their country from invaders.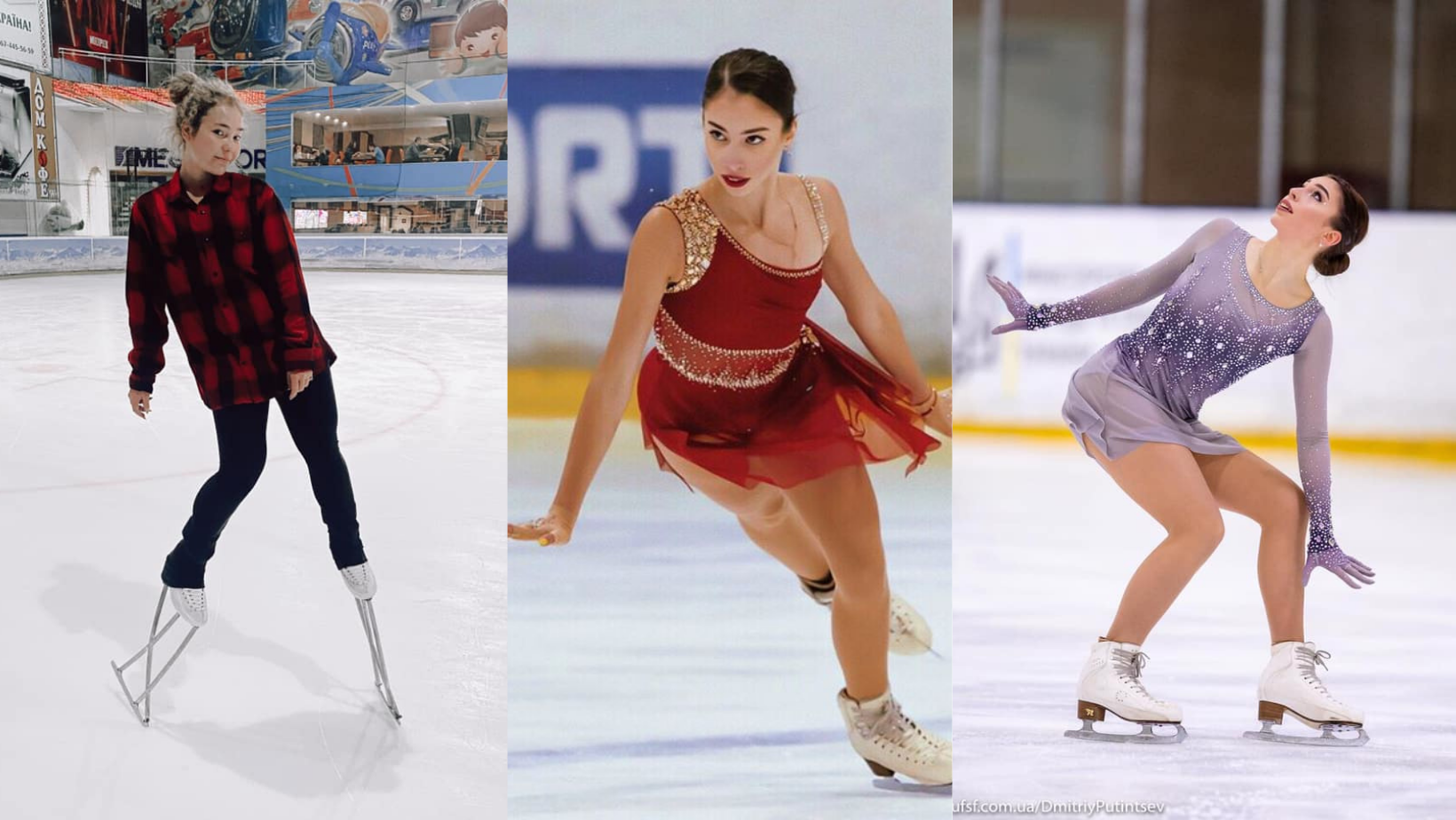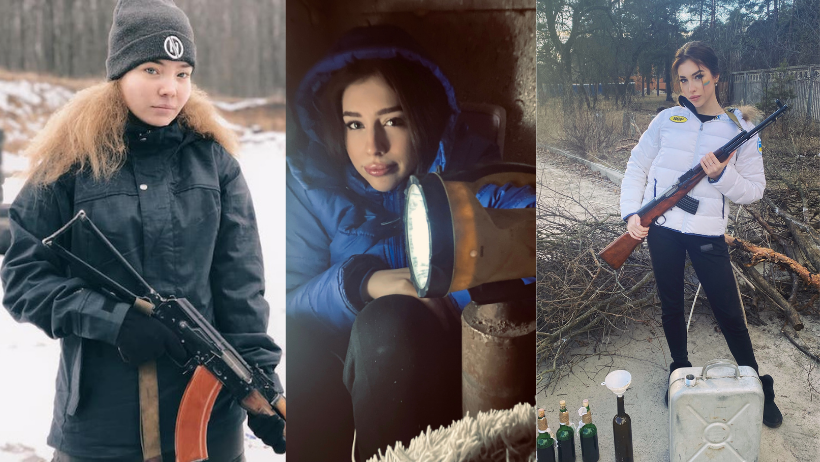 Слава Україні!