This is an introduction to Direct Help – our solution to coordinate help to Ukrainian skaters. If you want to help the Ukrainian figure skating community but are unsure how – read more for the details.
Intro
It's been more than two months since the full-scale war started, forcing millions of Ukrainians to flee the country. Most skaters and coaches have left the country. Many were leaving their home in a hurry bringing only one bag. Often that bag contained only skates – the single most important item for skaters.
In the very first days of the invasion, we launched a telegram chat for coordinating and helping each other with evacuation, seeking shelter, crossing borders, and settling in in the new countries. Being a young and small organization, we didn't have any contingency fund and thus could not provide any financial help. But the information and coordination support was critical for many people. Especially in the first week, when many have found themselves on the road, with poor internet, lack of information in the constantly changing situation, and extreme uncertainty on everything.
To our knowledge, most people have found shelter and most basic help, including basic refugee help from the EU. Support from many countries, clubs, and individuals was incredible – we should dedicate a separate post to it. No words can express how grateful we are for the hospitality and support many of our skaters have received. Some people found a place to continue training, but not all.
However, as the war continues, the need for further support becomes more and more obvious. While initial hope was that war should finish quickly, now the growing consensus is that we should prepare for months ahead.
Almost everyone has lost their jobs and sources of income and depleted savings, if there were any. Many people who got accommodation from the EU for the first month are now forced to look for renting flat themselves. Some still struggle to buy clothes or even food.
It's not a surprise that the evacuation logistics of Ukrainian skaters was centered around finding a place to skate. Some were less lucky than others and found shelter in the areas without ice rinks. They are now looking for relocation to places with an ice rink. Others are looking for new skates, as kids grow up quickly at a certain age, so they can keep skating. For many, life continues if you have an ice rink and a chance to skate.
Financing options
While many parents and coaches are trying to find jobs, it's a challenge and, at best, can cover only the most basic needs. Many people need financial support badly. Here are options they explored over the past two months:
1. National Federation - ❌
In Ukraine, national federation status belongs to an organization called UFSF (Ukrainian Figure Skating Federation). It's a remnant of soviet sport machine led by small group of relatives for decades. A typical situation in Ukrainian sport, unfortunately. Read here, here, and here if you want to know more.
As any soviet-style organization their financing capacity is limited to depending fully on state funding. UFSF do not have anything similar to emergency fund. If they had any remaining money in a bank account, it was most likely spent on personal needs for evacuation and shelter, and perhaps to some selected people from the state-owned school "Leader" (most UFSF heads belong to this single school). We have no way to know this, as UFSF never publishes its financial reports or decision-making documents. The rest of the community, including all the clubs, individual skaters and coaches, and a few other state schools, virtually do not exist for UFSF.
2. National Olympic Committee - ❌
International Olympic Committee (IOC) has announced 200 000 $ support to the Ukrainian Olympic community through the Solidarity fund. A "small task force led by President of NOC…" decided that figure skating is not eligible for this support. NOC itself didn't offer any kind of emergency support options for athletes.
3. Ministry of Youth and Sport - ❌
There is no fund or support from the Ministry of Youth and Sport.
4. International Skating Union (ISU) - ❓
In Communication No. 2466, ISU has announced its decision to provide financial support to Ukrainian national federations for 200 000 Swiss Francs (~215 000 USD). It includes all Ukrainian ISU Members, not just Figure Skating. At the present moment, it's unclear when the decision on how to proceed with these funds will be taken by ISU and how this help will be implemented.If ISU decides to simply send money to UFSF, they will inevitably benefit only a small group of people. Clubs and those state-owned schools that aren't friendly to UFSF heads are out of the question.
5. Professional Skating Foundation (PSF) - ❓
PSF has announced that their Emergency Fund can be used to help Ukrainian competitive skaters and coaches who need support due to the displacement. Surprisingly that was the only viable hope to get any help for many of our skaters. To our knowledge, many skaters and coaches applied. We don't know how many applications were approved by PSF, but we would love to hear from them so we can highlight this in the following articles.
The bottom line is this – Ukrainian skaters a pretty much left alone.
Skate Ukraine
As mentioned above, Skate Ukraine is a small and young organization, and we didn't have a chance to mature financially. Yet, we've been receiving many requests from all over the world asking how to help.
That's how we started talking about creating our own fund. This led to a quick realization that we don't have enough experience and human resources to run the fund properly. And we don't have an option to learn as time is not on our side now.
It turns out that raising funds is an easier problem. Giving money away effectively is very hard if you care about outcomes.
Giving money away effectively is very hard if you care about outcomes.
After brainstorming and exploring alternatives, we realized that we don't actually need a classic fund. We need a practical and fair way of matching those who can help with those who need help.
That's how the Direct Help project was born.
Direct Help project
It would be perfect if people who want to donate could donate directly to those who need help most. Which is essentially a coordination and information problem.
To solve it, we need to solve three problems:
1. 📝 Information
First, we need to get the information on who needs help, how much and what for. Skaters and coaches would self-report the help they are seeking. If they are uncomfortable asking for help publicly, then, well, perhaps it's not that critical.
Requests will be divided into two tiers:
Tier 1 - shelter, accommodation, food, medicine, and other basic needs requests.
Tier 2 - skates, club fees, ice time, etc.
We do not want to be the ultimate decision-makers on who needs help most. Every donor would be able to decide themselves instead.
2. ✅ Trust
Next, donors need to be sure that the person is a) part of the Ukrainian skating community and b) is truly who s/he is, and not some impersonator.
We solve a) by linking each help request with a profile on our website. We have extremely detailed profiles of all Ukrainian skaters who participated in internal or international competitions at least once. With automatic profiles fetching from results and community-driven wiki-style functionality, we claim to have the most advanced database of national skaters in the world. Check it out, it even has detailed breakdown by elements, descriptions of music to programs, jump statistics and more. Our database currently has 2462 people from Ukrainian figure skating.
Our database currently has 2462 people from Ukrainian figure skating.
How do we verify that person who is applying and claiming they're one of the skaters is who they are? We generate a unique token upon registration. A person sends the token to us through their personal Facebook or Instagram account or contacts us by other means. We know many skaters, coaches, and parents, so often, it's a quick and easy process. But in case it's not easy to verify, we arrange a short video call with the person and validate their identity. Verification information (when and by whom) is then made public.
The bottom line is – if you see a help request in the Direct Help system, you can be sure that it's a real person, verified by us.
3. 🔒 Privacy
Helping people should not pose any risks for them. Some of our female skaters have had experiences with offline and online stalkers, for example, so we take this seriously. Likewise, donors' personal information should be protected too.
Thus, when the donor fills in the form providing their contact info, it is shown only to the skater. Skater's contact info is never shared with anyone. It's the skater who will decide to initiate contact and share their information with the donor.
In short, donor contact info is never shared publicly, and skater's contacts aren't shared at all.
Workflow
So, here is how the current setup works:
For skaters
(Note: By "skater" here, we mean "skater or parent/guardian, coach or official from Ukrainian figure skating community")
Step 1. Application
At this step, the skater fills in the first form. They choose themselves from our profiles database, select which country they are in now, and fill in their contact details.
Upon submitting, they're presented with a unique token and asked to complete verification.
Step 2. Verification
Using their social network profiles, they contact us and send us the token. If it's not an option, they contact us by email or messengers, and we may conduct a short video call to make sure that it's who they are.
We activate their registration manually. Information about activation is then displayed on the skater's request page.
Step 3. Creating request
Skater creates new help request. They will be asked to choose Tier (1 or 2), describe their situation and their needs in two languages (English and Ukrainian), and specify the amount they need (in USD).
Each skater can create multiple requests.
Once created, the request immediately appears on the main Direct Help page and is visible to possible donors.
For donors
Step 1: Choosing whom to help
As a donor, you'll see a list of requests, divided into two tiers – Tier 1 (basic needs) and Tier 2 (skating-related needs). All requests are sorted randomly to avoid any sort of prioritization by us.
It's up to you to check them out. You can click on each request and explore the details of each particular skater and their request. Note that skaters' information (their achievements, competitive career years, etc.) are not self-reported – they're autogenerated from our results database.
You can choose whom to help randomly too.
Step 2. Submitting payment request
Once you know whom you want to help, we'll ask you to fill in a form with your contact info (name, email, instant messenger handle, or phone number) and the expected payment sum. Important: you can choose to pay a smaller amount – just specify it in the form.
That's it. Upon submitting, you'll receive an email with confirmation. Skater will receive an email notification too, and your payment request will be visible on the skater's personal admin page.
It's up to the skater to initiate contact with you.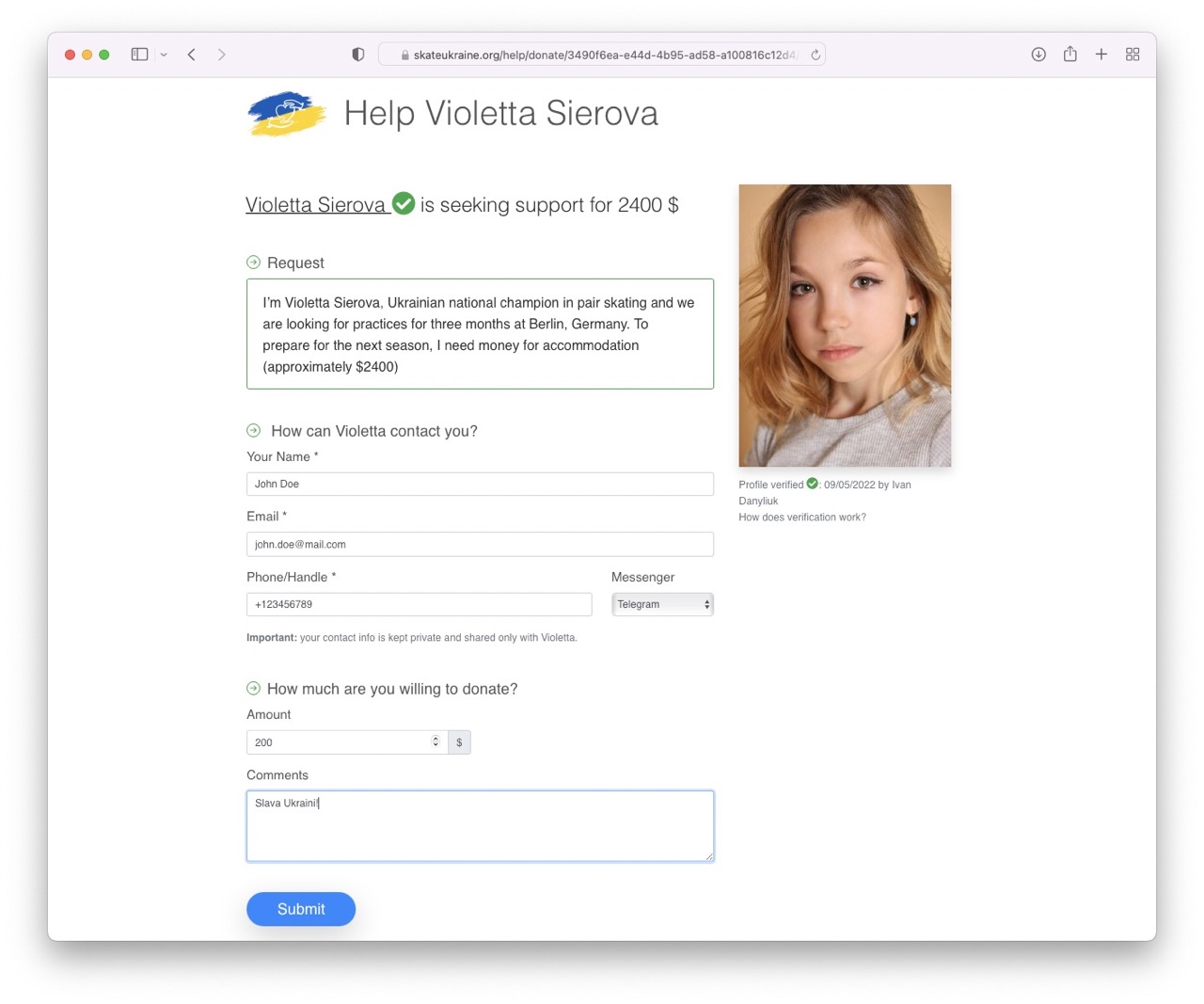 Step 3. Helping skater directly
Once contact is made, you directly talk to the skater (or their parent/guardian). You should agree on the best way to transfer money – whether it's a Paypal or direct wire transfer or MoneyGram service or anything else. This part could be tricky, as the Ukrainian financial system is not well integrated into the EU/US banking space. If stuck, consider using services like Paysend or TransferWise – they work well with Ukrainian banks and have low fees. But most people should have cards from European banks. So talk directly.
If everything is good and a transfer is made, we'll ask the skater to mark your payment request as confirmed in our system. This way, the progress of their request will be displayed in the system. If they forget to do so, you can ask them to confirm it, that's ok.
The permanent link for Direct Help page:
https://skateukraine.org/help
FAQ
How do I know that the request is still valid?
Help requests that are older than 7 days are hidden. If it's still relevant, the skater should go to their admin page and "Refresh" the request.
Can I help in a non-monetary way?
Absolutely. We're exploring ways to make it more obvious, but that's why we ask skaters to describe their requests in detail and specify the country they're in. Maybe someone can help with accommodation in that country. Or perhaps you live in that country, and you can help with skates. Or some other way to fulfill the request in a non-monetary way. Talk to the skater directly and propose such options.
What if we have trouble communicating with skaters due to the language barrier?
You may try to use translation services, but you can contact us if you are determined to help and the language problem is significant. We have the limited human capacity, but we'll try our best to assist you.
What's next?
This project is an experiment, and we hope it will be useful to our skaters in these tough and historical times. We'll closely listen to all the feedback from both donors and skaters and will be improving service, so it can be a well-functioning solution before we launch our own emergency fund in the future.
We want to thank you in advance for the help and support of the Ukrainian figure skating community.
Again, the permanent link for the Direct Help is: https://skateukraine.org/help. Go explore open requests now and please share this article for better reach. Thank you!