On July 13th news broke out about upcoming master-class of russian skater Alexandra Trusova in Stockholm, Sweden. On July 22nd it got cancelled. Here is what we know.
News about Trusova master-class in Sweden outraged Ukrainian skating community. On July 14th russia launched five cruise missles from a submarine and hit city center of Vinnytsia, leaving 26 people dead (including three children) and 202 injured. Next day it hit city of Dnipro with X-101 missles launched from Tu-95 aircraft, leaving 4 people dead, 16 injured and city water supply damaged. Two weeks prior two anti-ship missles hit a shopping mall in the city of Kremehcnuk, killing 20 people and injuring at least 56 people. Kharkiv and Mykolaiv are being hit by missles every day. Mariupol and some other cities were virtually destroyed and now surrounded by mass graves. While many people are tired from the news of war, it's still very much ongoing and russia is commited to killing Ukrainians more then ever.
👉 Sport community and ISU responded with unilateral ban of russian and belorussian athletes from participating and officiating in skating events. The goal of such a move has nothing to do with athletes and officials, rather with nation they represent. Many countries and organizations are shocked by brutal invasion of russia and willing to do as much as they can to stop the war. Putting pressure on the invaders is the least they can do. Banning nation from participation in sports is a signal from the community that they do not accept such a horrific act of violence and nation's genocide.
So the news that Swedish club Djurgårdens IF Konståkning decided to host russian skater's master class raised more than an eyebrow. For Ukrainians, most of which either live under daily experience of air sirens or displaced as a refugees around the globe, this position of club and event organizer, Loop Sport, was not acceptable. It sent the clear signal that club and organizers don't care and do not share community's effort to stop the war.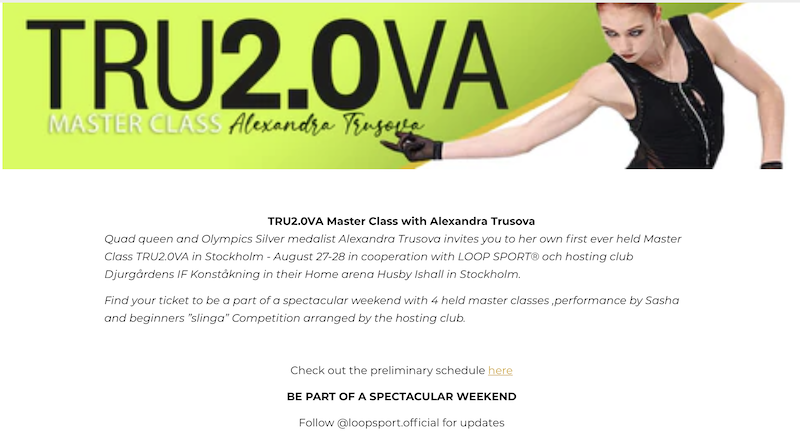 Here what has happened next.
👉 Initial reactions in our community were "we need to stop this". People started to comment on social media and organizers' email, expressing their feelings about the decision. Some suggested to share videos about Irpin and Bucha to organizers. Organizers responded by closing comments on their Instagram.
👉 Next days were marked by a barrage of elevated statements from russian coaches. The narrative was that Trusova master-class means a clear sign that soon sanctions will be lifted. Alexander Zhulin expressed confidence that "everything gonna be as usual for russians soon – because Sweden now invited Trusova".
The small private initiative of a club was enough to undermine the whole world community effort to consolidate the pressure aimed to stop the war. Club board, conciously or uncounciously ignorant of the ongoing war, sent the clear signal to russia that everything is fine.
👉 On July 15th Swedish Skating Association (Svenska Konstäkningsförbundet) responded to the ongoing events by condemning russian invasion of Ukraine and issuing a recommendation to clubs to distance from any activity that involves russian athletes or officials. They also reminded that they cannot prevent individual clubs from carrying such activities. Fair enough, given the voluntary, non-governmental and non-profit nature of sports sector in Europe. On July 21st they issued further clarification, expanding on the logic of this recommendation. In short, russian athlete – even as a private individual – represents russia and thus indirectly linked to russian invasion, and involving such people into activities "goes agaings foundations of the core values and may cause damage to the reputation of Swedish figure skating".
This, however, is a completely misunderstood concept in russia, where sport institutionally belongs to government and non-profit clubs do not exist even as a concept. We'll get there in a minute.
👉 We at Skate Ukraine were preparing our public statement, but were willing to wait to find the best way to communicate. One of the consideration was to prevent possible harm for Ukrainian coaches who found a temporary home in the very same club.
We contacted our friends in Sweden, who reached local press and spread the word further. Our friends from Nordic Ukraine Forum swiftly joined the efforts and brought more contacts and resources. People were preparing to picket the master-class on the day of the event. The war must be stopped and if club is willing to undermine world's effort to stop it, they should be ready for the consequences. Club officials should be ready to explain their students how exactly supporting the russian invasion matches with the club mission.
👉 On July 22nd russian-speaking segment of the internet bursted with outcry about cancellation of Trusova master class (though there is no official confirmation yet). Buckle up – those are official statements of the leaders of the russian figure skating and they provide pretty accurate picture of russian view of the world.
"Fools are always fools… I thought they had already arranged it privately… Let's wait for the end of 'special operation' (=war in russian)."
"I always told that it's not a sport anymore, it's a political battle… Swedish skaters – who are of the low level – have lost their chance to touch the star of figure skating, and Swedish federation doesn't undestand it. Or, undestands, but was pressed from outside… Also want to remind Swedish federation that their figure skating sucks."
Alexander Gorshkov, head of russian "federation":
"I'm in the great city of Suzdal now, so it's hard to comment. Don't know anything."
"What's strange here? There is a russophobia is going on, they ban even Dostoievsky!"
"When such things are happening with 18-yr old skater, I want to ask: "Comrads, what are you doing?". Sport is outside of politics!"
Renat Laishev, president of Sambo-70 state school:
"A gang of dumbheaded officials from the West just want to make life of others worse… They just afraid of us. They know that our female skaters are the best in the world. It's all a continuation of european lack of culture and lawlessnes. We'll win anyway!"
👉 On the midnight of July 23rd the hosting club issued the statement about cancellation. It stated that Swedish Figure Skating Association called club to cancel the master-class as it goes against their values and can damage the reputation of Swedish figure skating – same narrative that was reiterated on Jule 21st. Statement clearly tries to downlplay the question of "nationality" in a few different ways ("figure skating is for everyone", "we're value diversity", "we have members from all nations", "Trusovа is an individual", "we have coaches who demonstrate competence regardless of nationality" etc). Such a reasoning makes total sense if you completely ignore the question of ongoing war and genocide of Ukrainians carried by russia. While ignoring the context of war, club also stressed the fact the they aim to act as a role modes for children and enable them to become the next generation leaders.
For the Ukrainian figure skating community though it is an important lesson of the power of public society. By uniting, communicating, acting and expressing their position people managed to cancel this scandalous master-class amid the ongoing war. Great job, community! Loop Sport and Djurgårdens IF Konståkning are invited to organize a webinar on how to embarass their stakeholders and their nation for no reason.
Of course, we can't know everything that was happening behind the curtains. If you can add valuable information to this post, please contact us.
PS. Couple of words about Alexandra Trusova. She's not a part of this story at all. Any other skater in her place would have received the same amount of a fierce public resistance. There is a war going on, russia pours billions to kill Ukrainians everyday in a most barbaric way the world have seen since WWII. Ukrainians are defending not only their country but the whole Europe and paying the huge price with their lives.
Skate Ukraine is a non-profit organization devoted to developing figure skating clubs in Ukraine.