Marina Amirkhanova's name has been very well known in Ukrainian figure skating. She's a Head Coach of Ukrainian National Team and a Head of coaching committee at UFSF (Ukrainian Figure Skating Federation) for more than two decades. Vast majority of Ukrainian competitive skaters were among Marina's students at some point. Parents of young skaters in state schools (DUSSH) dream to see their kids among Marina's students. It's the Marina Amirkhanova who sits in Kiss&Cry with Ukrainian skaters at most Worlds, Euros, and Olympics, after all.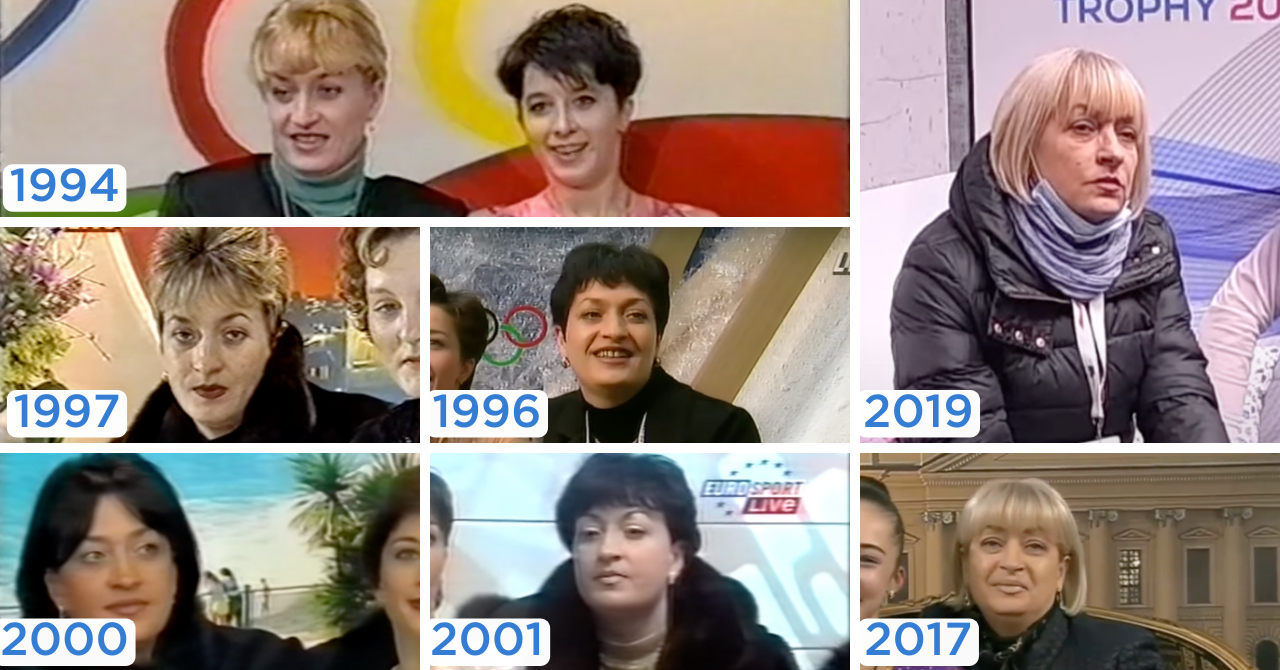 Despite this fame Marina Amirkhanova is virtually unknown in the international skating community. Nobody remembers her coaching achievments. No one invites Amirkhanova to ISU seminars. No foreign skater seeks to be her student. Her students predominantly finish careers with traumas, physical and/or mental, move to other countries to have as little contact with Marina as possible.
As one of the most influential person in Ukrainian figure skating, it's worth taking a closer look at her career. What was her achievements over past 20+ years as a head coach, as a head of coaches' committee, as a coach, as a person and as an official living on taxpayers' money. If she would end her career now, how will she be remembered? In other words – what is Marina Amirkhanova's life legacy?
Head Coach
Marina Amirkhanova has held the position of head coach of the Ukrainian Figure Skating Federation for around 20 years. (Exact number is unknown as UFSF has never shared their decision-making documents)
In democratic countries, where federations are non-profit organizations with democratic decision-making, this is an elected position. But UFSF is a relic of the Soviet sports system, so Ministry of Sports appoints head coaches from the top, and members of federations in Ukraine have virtually no voice here.
Luckily for Marina, her husband, Daniil Amirkhanov – had become head of the winter sports department in the Ministry of Sports in the early 2000-s. That kickstarted Marina's multi-decade career with a prominent title as Head coach of the National team of Ukraine in Figure skating.
As a quick side note, Daniil was an assistant of Ludmila Mikhailovskaya (another soviet lady in UFSF, who sat in the office with her family members for almost 40 years) and got promoted quickly for his loyalty. Another funny fact – Marina's maiden name is also Amirkhanova (the same as her husband's).
As a head coach, Marina was responsible for the results of the national team on international arena.
These chart shows her success at this position.
Olympic games (1992-2022)
Best place of Ukrainian single skaters at Olympic Games (1-3 - medals, 1-10 - top 10)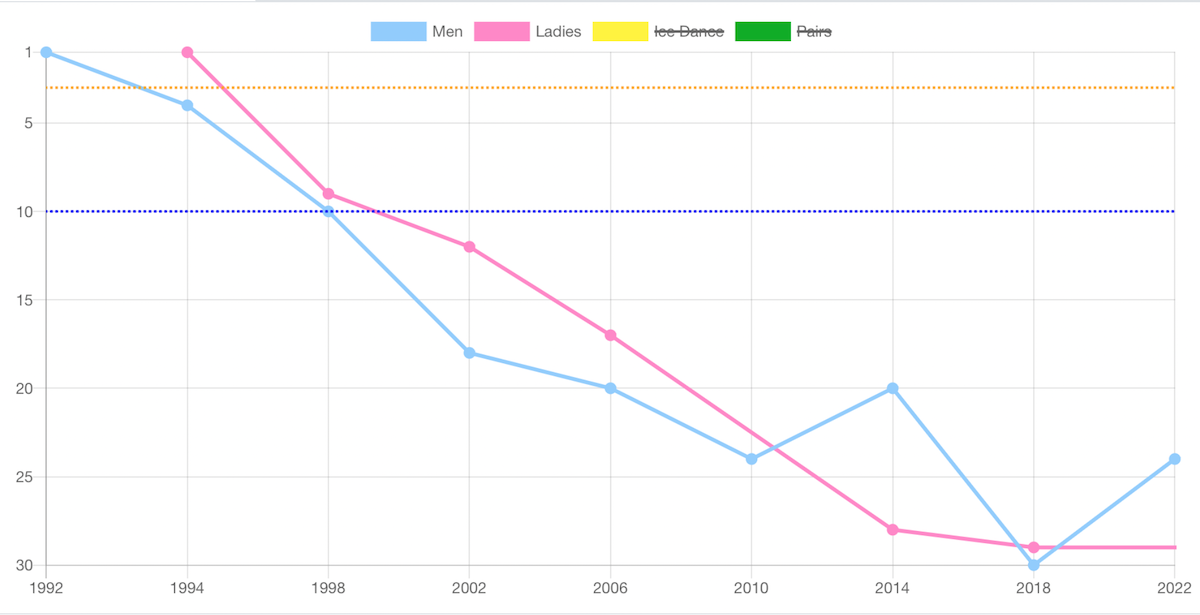 World Championships (1991-2022)
Best place of Ukrainian single skaters at World Chapmpionships (1-3 - medals, 1-10 - top 10)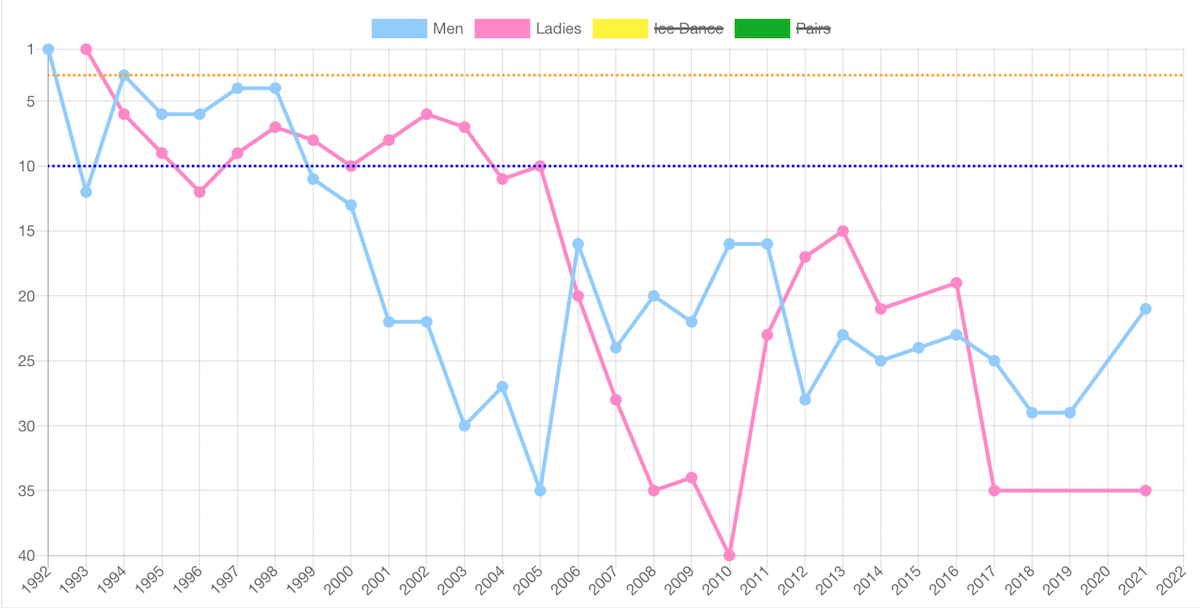 Marina was supposed to hold this position until the next successor came. Instead, she used it to ensure there was no successor.
Head of Coaches' Committee at UFSF
UFSF
To fully understand the trajectory of Marina's career at UFSF, we should briefly take a look at UFSF itself. We covered it multiple times in articles like «What's wrong with UFSF?», «30 years of UFSF» or «Federation vs. Dzitsyuk-Pavlov». The gist is that UFSF is a branch of a defunctioning Soviet sports machine and incapable of developing figure skating in a democratic market-based economy.
Video "30 years of UFSF" (in Ukrainian):
Instead of developing a network of non-state sponsored schools (clubs), increasing popularity and mass participation in figure skating, teaching coaches and judges to increase the pool and the quality of the whole process, UFSF focused on fighting for the scarse resource between state schools – state funding. Ukranian sport system hasn't changed since USSR times, so being on the board of UFSF meant higher position in the hierarchy and having a leverage to fight off «rival» coaches.
"Developing sport" in UFSF worldview is a war between coaches. Destroy other coaches, or they destroy you. Make your rivals weaker. Get control over decision-making, so it's in your favor. Control the judging, and you win. Thirty years of negative selection had ensured that only people who accepted and agreed with these rules stayed in Ukraine.
With this mentality, the "Coaches' Committee" became something terribly different from what it supposed to mean.
Coaches' Committee
According to widely established practice, coaches comittee is responsible for designing and overseeing coaches' development programs in the country. Head of Coaches' Committee has to be specialists with a wide range of knowledge and expertise and excellent communication skills to bring as much competence to the coaches as possible.
But you won't find any coaching program from UFSF at all.
There are zero courses for coaches from UFSF. There are no Ukrainain books on figure skating to learn from. There are no coaching workshops or seminars. Zero efforts has been made by Coaches' Committee to help aspiring Ukrainian coaches to grow.
Marina not only wasn't proactive in teaching coaches. She also excelled in another task – withholding information from them. Her official position gave her first-hand access to the latest ISU seminars and updates on changes in the judging rules. Head coaches in other countries make sure that all valuable ISU rules updates and insights are shared with all coaches within their federations. Marina, on the other hand, had used this information as a competitive edge to weaken other coaches and weaken their ability to grow and deliver competitive performances of their skaters.
In other words, not only did she not make a positive contribution to the coach's development in Ukraine – she made a negative one.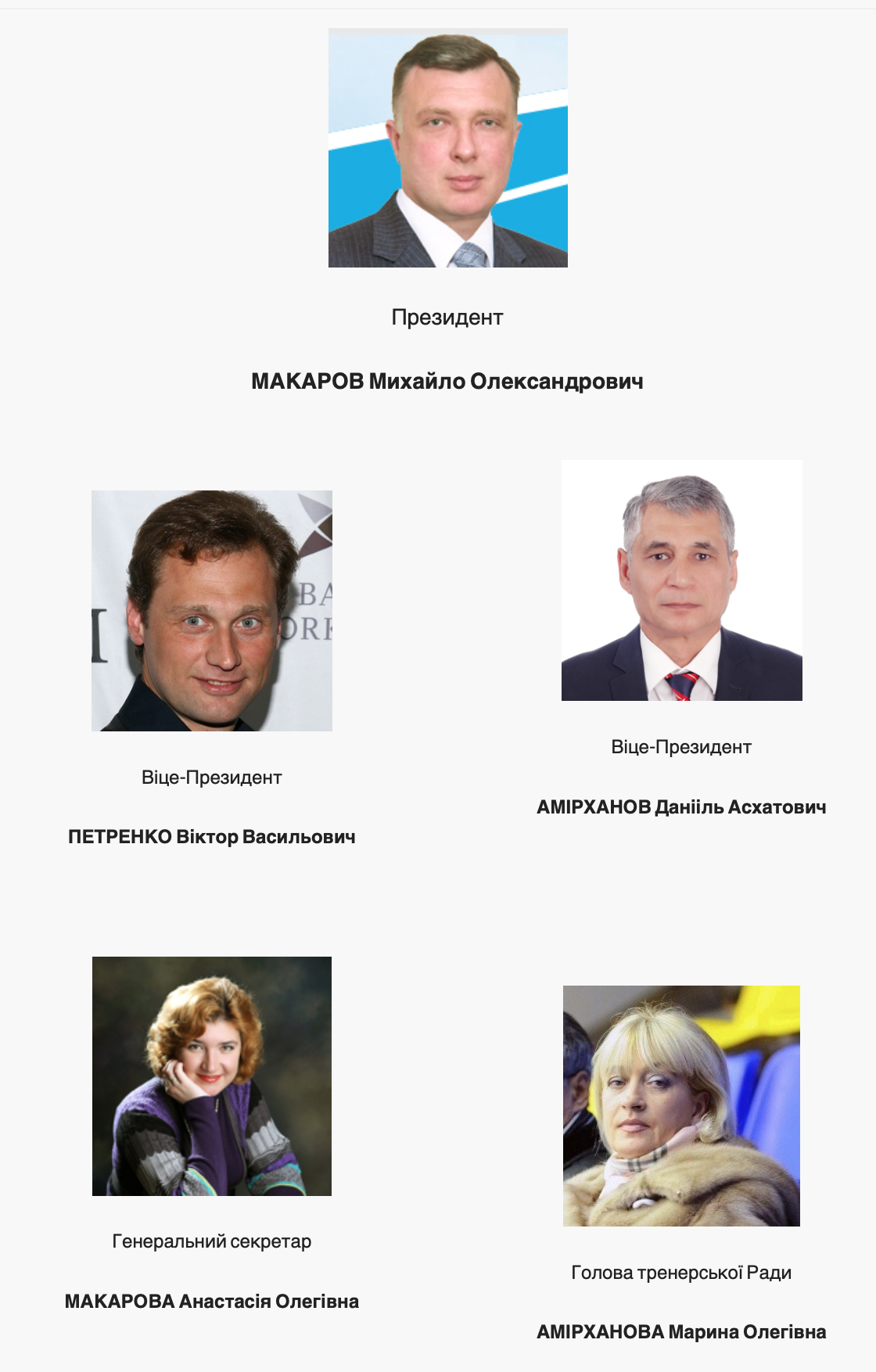 UFSF site screenshot
Because of that, most young coaches and ex-skaters flee to other countries to become coaches or simply did abandon their hopes to become a coach in Ukraine.
A coach
On a daily basis, Marina's has been coaching in Kyiv, in the state school «Lider». «Lider» is run by members of UFSF, so it's often hard to separate those two organizations. Marina's students are, obviously, single skaters on the National team and those who dream to be on the National team and represent Ukraine at international competitions some day.
Practices of skaters at National team and at state school are funded by state and municipal government. Additionaly UFSF/Lider get most of the financing from ISU, Ministry of Sports and NOC. Yet, Marina's lessons has never been free nor cheap. The average price parents pay to get their kids into Marina's group is 300-400 USD per month.
As the main coach at «Lider», Head Coach at UFSF and Head of coaches' committee, over the years Marina has ensured that anyone willing to get on the National Team has to become her student. Using her power and control over the judging panel (led by Yuri Balkov – another member of UFSF with world fame of corrupted judging scandals), she made it clear that National Team and Marina Amirkhanova are synonyms.
Wide array of other techniques were used to achieve this – rumor spreading about other coaches, blackmailing and subtle manipulations every now and then. In her position, it wasn't too hard to fool parents or young unconfident coaches.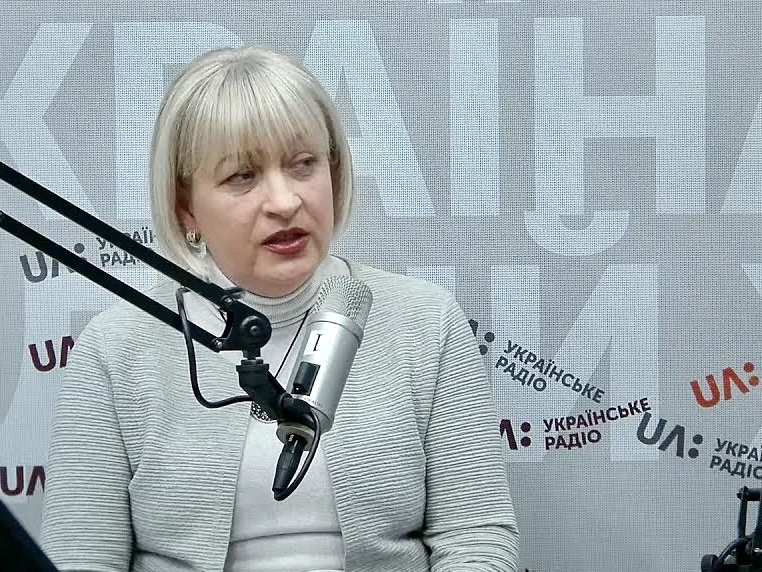 She became famous for her maniupulative techniques with skaters too. Surprisingly enough, her ability to use the power imbalance and manipulate people gave her recognition as a "great psychologist" among some skaters.
A person
Coaching psychology is an important field of coaching nowadays. It is often distinctive for the old vs. new styles of coaching. (The first classes of «coaching psychology» appeared only in 2000. Previous generations of coach education had very little focus on psychology)
The most important aspect of modern coaching psychology science is the knowledge of how to boost confidence and motivation in athletes, how to create a safe and aspiring environment despite day-to-day challenges that help athletes to go an extra mile in their pursuit of personal excellence.
But in the country stuck in the Soviet approach to the sport, Marina Amirkhanova was deemed a «great psychologist» simply for her ability to manipulate people.
Sometimes it's described in a good way, i.e., she's able to get the skater paralyzed from fear before the start, out of this state with some words. But in 9 of 10 testimonies, it's the opposite – she's described as a powerful manipulator who can humiliate skaters with unprecedented success or use subtle methods to bump parents and/or other coaches and skaters into each other.
Some of the methods she used abundantly are:
humiliation and namecalling;
belittling and shouting;
ignoring and rejecting;
gaslighting and mind games;
body shaming;
weighing young female skaters in public and calling her a «fat cow» and a «liar»;
sexualized jokes;
intimidating, verbally and non-verbally;
Pretty much a textbook of all forms of abuse.
Sexualized jokes adressed to minors, often mentioning reproductive organs and topic of sex generally was her favourite ones, according to many skaters. Although it's not uncommon thing among UFSF coaches in the state schools.
In countries with no history of communist sports system, such behavior would secure her ban for life from ever working with athletes. In UFSF, this makes her a respected Head Coach and «great psychologist».
An official
Both Marina and Danil Amirkhanov's hold official positions for many years (15-20 years). Danil is a vice-president of UFSF and Head of winter sports department and Ministry of Sports (until last year – couldn't keep his position due to the age). Official income and assets declaration of Danil reveals official figures of his and his wife salaries.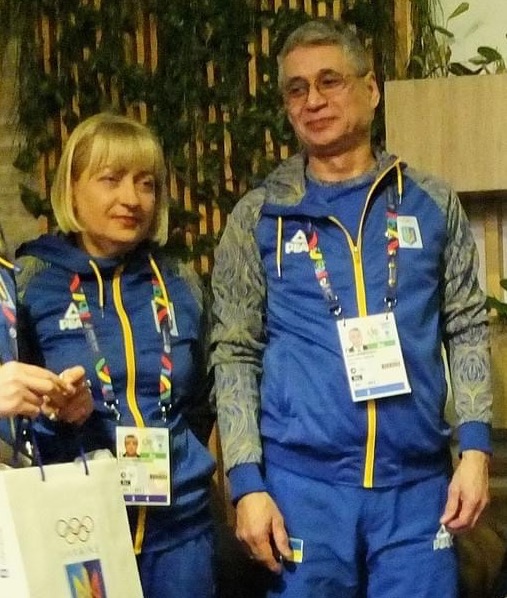 Let's take a look at numbers:
Income
| | | |
| --- | --- | --- |
| Salary | $395,15 / month | $1 190,60 / month |
| Pension | $95,8 / month | $127,57 / month |
Totalling $21 805,38 a year.
According to the declarations in the past 5 years, couple has aquired following assets:
| | | |
| --- | --- | --- |
| 🚗 Car | BMW X1 (2017) | ~$10 700 |
| 🚗 Car | Nissan Leaf | ~$15 000 |
| 🚗 Car | Tesla Model 3 | ~$178 (declared as bought for 5000 UAH, real price estimated $40 000) |
| 📈 Equities | House Capital | ~$36 886 |
| 🚪 Flat | 46.5 sq.m. | ~$30 871,68 |
| 🌳 Land | 120` sq.m. | unknown, estimated $10 000+ |
| 🌳 Land | 1000 sq.m. | unknown, estimated $100 000+ |
| 🏠 House | 223 sq.m. | unknown, estimated $150 000+ |
Totaling (with estimates) ~$400 000+.
I don't know how did Marina managed to buy Tesla Model 3 for $178 in 2020. Quite impressive.
💰 Marina's students pay her on average 300 USD per month directly in cash, so for each 5 students per year it adds to the additional $18 000 / year or $90 000 for the past 5 years untaxed.
Bottom line is that couple of sport officials, living on a average pension of $100 and average salary of $700 per person managed to get pretty good living – 2 flats, 1000 sq. m. land and a 223 sq. m. house in an elite Koncha-Zaspa region and 3 cars, including Tesla Model 3.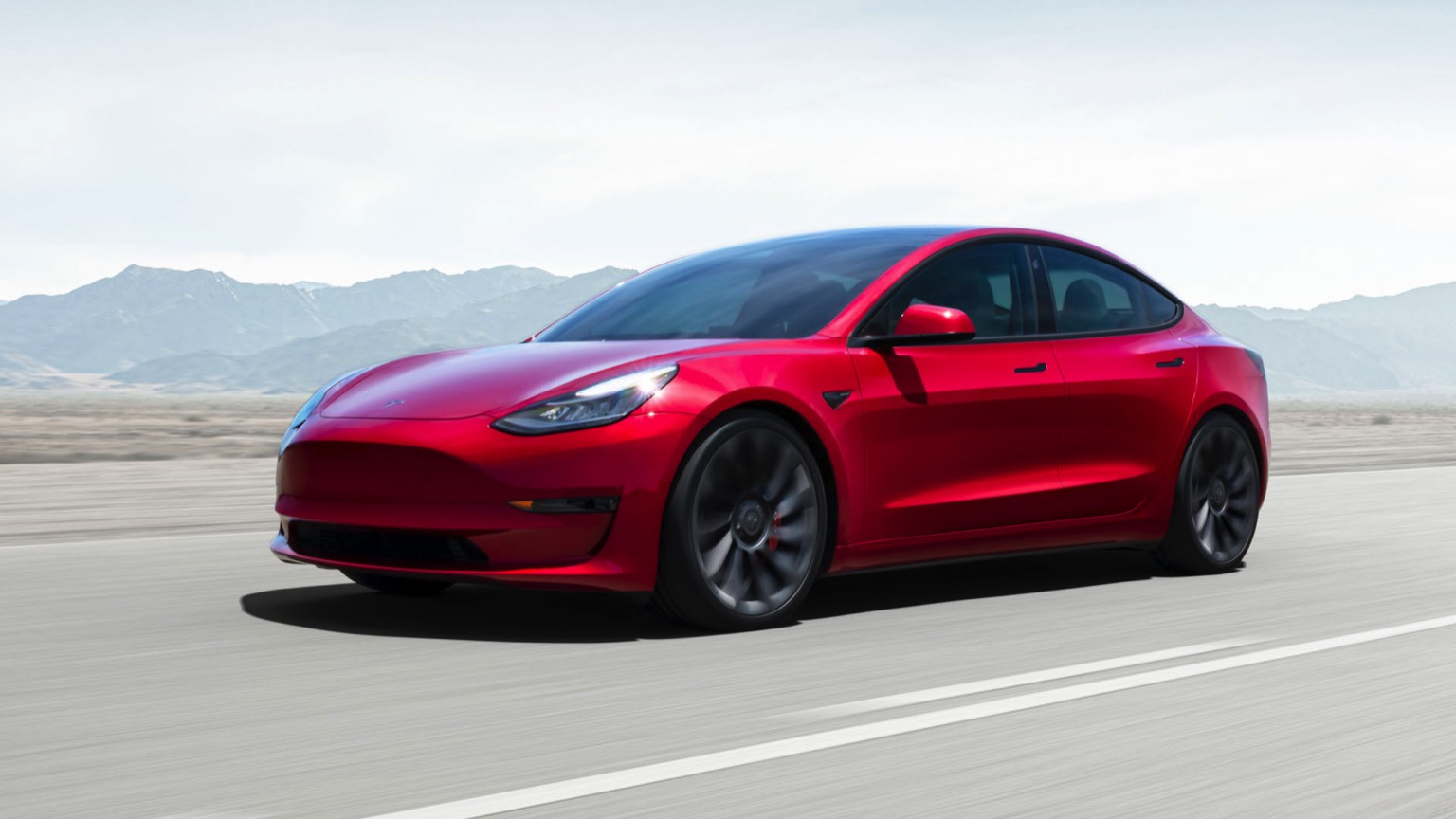 Skaters testimonies
But the most important part of her legacy is, of course, how her students remembered her.
Over the last 15 years, we've heard from many of them and talked to them, and it was a tough call. The hard truth of abusive coaching is that abuse always goes hand-to-hand with normal daily coaching experience, where the coach was also doing a lot of «good» to the skater. It's not all dark all the time. It's not even black and white.
Even more, given the enormous power imbalance between skater and coach in the Soviet system (basically, the skater has no voice at all and coach has a godlike power upon the athlete), the dependence on the coach is too high. Sometimes athletes literally live in the coaches' house for free (one of the favorite strategies of the abusive coaches, by the way, especially in the sexual abuse cases).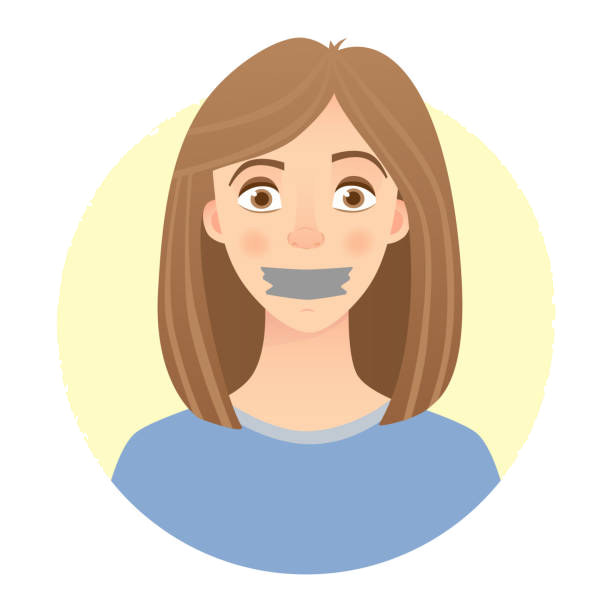 So collecting direct testimonies for this article was an incredibly challenging task, and most of the skaters we talked to were understandably unwilling to talk. They often told us, «She did a lot of harm to me, but also a lot of good, so I don't want to be involved in any article about her».
That's the hard truth about why so many cases of abuse in sport are left untold.
We do care and respect skaters' desire not to talk, even knowing that silence just keeps things in place, inflicts hurt to more and more skaters and contributes to the decline of sport. Thus we're publishing only testimonies that were given to us with consent or made publicly. They're also anonymized, so it's hard to guess the skater.
«… she's very vindictive, for sure. If skater decides to switch to another coach, she unleashes her vengeance with unprecedented power upon him/her….»
«…vindictive… when I flew to practice to [anothor country], she started to call and threaten my parents, I became an enemy number one, and she pulled the plug on me. I was grossly misjudged on the competitions to come, and she made sure I won't win ever again….»
«… she's domineering, often with no limits… if she disagrees with someone's opinion, she tries to crush and ridicule the person….»
«…if the child doesn't progress quickly, she starts to humiliate him/her….»
«…she wasn't mean to me at the beginning, but I heard a lot of rude words to the older girls… especially about weight. You can always be more polite with this, but she wasn't choosing her words, and it was very mean….»
«…fifteen minutes before the end of practice, she's always been smoking right at the boards and was exhaling the smoke straight into my face. I was too little, though, to understand that it's not okay….»
«… she's been commenting our personal life, telling us who we should be sleeping with, humiliated us on this matter right on the ice during practice….»
«…I wasn't her student for too long, and I am the coach [in another country] myself, but when I remember how she was coaching us, I realize that she was doing it wrong and did more harm to us….»
«…she had invented her own system of athlete development and clung onto it for many years. She didn't learn from others, didn't advance or take courses; she limited herself to her own model….»
…she was very rude, and were asking if I had sex (I was 12 at the moment), and was joking constantly mentioning genitals (like "…why do you skate with cunt wide open in front to the judges…" and so on)…
If you're one of Marina's students and ready to openly (anonymously or not) share your testimonies – feel free to write us; we'll be updating this article upon new material.
Marina Amirkhanova touched a lot of lives and careers indirectly too. While most skaters will never speak up, some did. For example, here is an interview with Alexei Bychenko – 2016 European silver medalist (for Israel) – where he opens up about reasons of decline of Ukrainian figure skating and reasons behind his move to other country.
…there is a small group of people in Ukrainian figure skating who controls everything. If you try to appeal to justice there, you'll get nothing if they don't want it. They all stick together… That group consists from Marina and Danil Amirkhanova, and Mikhailovskaya familiy members…
List of students
Here is an incomplete list of her students:
Only two of her students were at the podiums of major ISU championships – Julia Lavrenchuk in 1997 and Olena Liashenko in 1995 and 2003-2004 – both times long before new ISU judging system emerged.
Brief anonymous statistics on her students' feedback – 1 was positive ("she's a great psychologist"), 19 was strongly negative and no data for 9 students. At least 13 studens escaped to work as coaches to other countries and don't want to hear anything about figure skating Ukraine. Only 3 stayed in Ukraine for work. 4 still skating. At least 10 students blamed Marina's qualification directly for their injuries, but this topic deserves more rigorous investigation in the future.
Legacy
Coach legacy is not about results. Legacy will be remembered by the impact, both positive or negative, made on the lives of the atletes. Wins and losses will be forgotten, but skaters would have to carry on that impact throughout their lives.
Best coaches in the world leave a lasting legacy that goes far beyond sport. They encourage athletes to believe in themselves and dream. They celebrate successes and teach how to grow from failures. They trust their students to trust themselves. They respect and care about athletes as persons. They make skaters feel safe around them. They show what trust, honesty and fairness means, both in sport and in life. They make everyone they touch a better athlete and a person.
Legendary basketball coach John Wooden once said "A good coach can change a game, a great coach can change a life."
Marina's legacy would be defined by this impact too. While some skaters undoubtedly are thankful to her and other abusive coaches, this is attributed to the well known Stockholm's syndrom in sports.
Most of her students remember her as vindictive, psychologically unstable, unprofessional and corrupted person, who destroyed their careers. Most skaters knew in advance about her methods and real qualification, but had no choice but to become her student simply to have a chance to go to international competition. She virtually controls flows of state funding for figure skating in Ukraine, after all.
Some of Marina's students are now going to the multiyear psychological theraphy to learn how to bring back the confidence or start loving their body. Years of humiliation by Marina in their most sensitive teenage ages did its job.
Some skaters got injuries incompatible with healthy and happy life because of Marina's choices as a coach, and now have to deal with it on their own.
Many skaters simply hate figure skating and do not even watch it anymore.
Others moved to other countries, after trying to get any help in Ukraine from UFSF and their coach, Marina, to kickstart coaching career here. They're learning how to coach differently now in developed countries.
No one would be willing to fly back to meet Marina, hug her and geniunly thank her for making their life better.
But number of people that would cheer up and celebrate if Marina ends her career today is far bigger than number of her skaters. Number of skaters, parents, fans and coaches who were affected by her life choices is hard to comprehend. Amount of tears shed out of powerlessness and inability to fix the system Amirkhanova created over the years is staggering.
In the end, she drove Ukrainian figure skating to the bottom. She destroyed hopes and careers of many incredibly talented Ukrainian skaters. Injured many of them. Stopped many others from even trying to pursue skating or coaching careers in Ukraine. Showed them that there is no other choice but leave Ukraine and seek support in other countries. Living off the taxpayers money, she travelled around the world and represented Ukraine on most Worlds, Euros and Olympics (often with her husband, Danil). With pension of 100$ and state salary of 1200$ she made herself a decent living in a 223 sq.m house in elite region and bought a Tesla car.
And that's is the legacy of Marina Amirkhanova.